Jan 10, 2008 | Schedulefly Crew
Happy New Year! There are many reasons the team here at Schedulefly is excited about the upcoming year. The biggest reason is that we know more and more businesses are embracing the web as the platform for their business software. Software-as-a-service applications like Schedulefly just make so much sense - and they are very appealing to organizations with tight budgets and limited or no IT staff. Hello - Restaurants!
It has been very exciting to watch new customers come on board each day - import their employees, broadcast company messages, post work schedules and trade shifts on day one! There are no hardware purchases, no software installations and typical IT related headaches. Our customers login from any computer on the internet and go...
We've created a short video overview that gives you a peek into Schedulefly and a few of its main features - check it out by clicking the image below...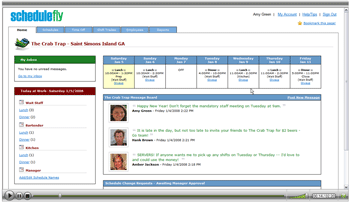 Best of luck in 2008!
The Schedulefly Team